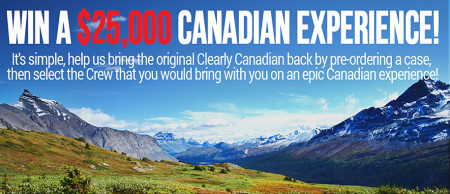 Clearly Canadian Sparkling Water is making a comeback? Possibly but they are pre-selling cases first! It seems productions will begin at 25,000 cases sold. At this time they are at 12296 cases sold. This number grows by the minute! Tasteimonial.com is happy to contribute to this amazing cause! It was surely a personal favorite years ago and we enjoyed every flavor! Get yours today! Click the website link here
They company is also giving away a $25,000 Canadian experience with the chance at bringing your own crew along.
The Company website explains pretty much everything you need to do! Below is a quote!
"To all of Clearly's loving, thirsty, demanding fans, this is where you come in to bring Clearly Canadian to life! With your help, work and commitment, Clearly Canadian will be coming to a store near you and into your hot little hands even sooner. Your pre-orders will be literally pushing Clearly Canadian into production. Please order today and please keep campaigning like its 1994!"