With nearly 900 CAJUN food tours under their belt, Cajun Food Tours, is now ready to truck guests "Around the World in Acadiana!"   So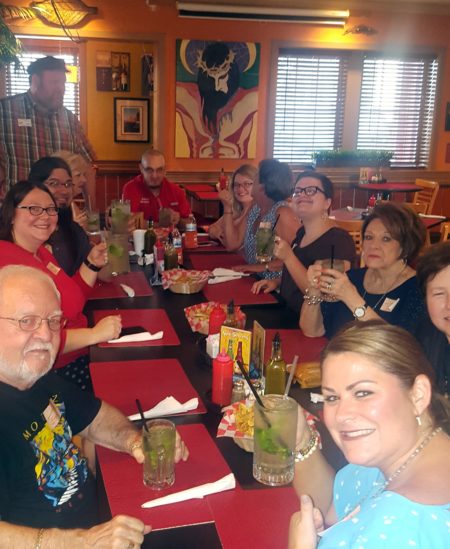 many fascinating flavors from all over the world can be found right here in Lafayette.  For those who have not been adventurous enough to try them all yet, this tour is for you!
The new World Food Tour introduces guests to several menu items at each of 5 different nationally diverse restaurants.  True to the nature of Cajun Food Tours, guests can expect an education along with the fabulous food.  Jay Steiner, guide for the new tour, says, "When you taste the food of a different culture, you are tasting their history, their struggles, their triumphs. You are taking a part of them into yourself. Sometimes it is comforting, sometimes it is shocking, but it is always nourishing."
The new World Food Tours are scheduled weekly on Wednesday and Thursday evenings at 6:30pm beginning July 26thand last approx. 3 hours.  (Large groups may request 2:30pm tours on weekends when available.)
"I got this idea about 4 years ago when I realized how many of my guests were locals.  I've been excited and determined to do it all this time," says Marie Ducote-Comeaux, owner of Cajun Food Tours, "but something was holding me back; something was missing.  I know now that something was the perfect tour guide.  When Jay came on board as a guide nearly a year ago, I immediately knew he was the perfect combination of history buff, foodie & world culture aficionado to make this new venture soar!"
Steiner's interest in diversity brings something unique to the tour.  He notes, "The same motivations that led our ancestors here decades or centuries ago are now bringing a whole new wave of flavors to add to Acadiana's cultural gumbo.  I want to bring guests to the tables of our diverse neighbors here in Lafayette. I want people to taste the ever-expanding array of flavors that make up the food here. I want them to be surprised by new flavors, but also to find common ground in shared ingredients. We have so many walls put up between neighbors, and what better place to start breaking them down than at the table?"
We are excited to be adding a whole new slew of restaurants on board as partners!  To date, international restaurant partners include Café Habana City, Antoni's, Patacon, Saigon Noodles, Blu Basil, Urbano's, Pimon Thai and Bismillah Indian Kitchen, and counting….
In their bright orange, food-wrapped tour bus, Cajun Food Tours offers a uniquely casual, fun, and tasty experience.  Scheduled guests enjoy a 3 to 4-hour food-tasting jaunt led by one of three friendly and knowledgeable tour guides.   Those onboard are introduced to Lafayette's unique food culture in a cozy setting of Cajun hospitality.
South Louisiana native and former Louisiana history teacher, Marie Ducote-Comeaux, began Cajun Food Tours in July of 2012 with a desire to share this very special area with visitors.  Turns out, half of her guests are local!
Cajun food tours are offered midday and late afternoon Mondays through Saturdays.  World Tours can be booked on Wednesday and Thursday evenings.  For about $55/person, guests enjoy a 3 ½ tour that's informative, entertaining and delicious.  Guests can book online at www.cajunfoodtours.com or by calling 337-230-6169.
Let's go eat!  "Vamos a comer;  Πάμε να φάμε; Andiamo a mangiare, Đi ăn thôi!
For more information or inquiry, please contact Marie Ducote
337-230-6169, marie@cajunfoodtours.com
Or visit our website and/or Facebook page
FOR IMMEDIATE RELEASE:
Contact: 
Marie Ducote – Cajun Food Tours – 337-230-6169